Posted by
Larry Eubanks
on Mar 6, 2016 in
Blog
|
0 comments
This is my message given on March 6, 2016
We have had a great response to the Journey of Spiritual Renewal. We have heard testimony after testimony of people who experienced spiritual healing, or spiritual breakthroughs, or people who have challenged to deeper prayer and greater acts of service.
Reading the testimonies of service has been wonderful, and there were some things on the list of suggestions for ministry that I'd like to see us follow up on.
In fact, there is one project that I'm going to suggest to my Sunday School class that we take on. Maybe you've been similarly moved.
Now, here's the big question: what's next? Where do we go from here? The last thing we want is for the Journey of Spiritual Renewal to end. We don't want it to be an event, a thing, something that's over and it's great and let's put it on the calendar for next year, like every other church program or activity.
That's why we didn't want to call it a Spiritual Renewal Week or Weekend, because weeks end and others begin. Weekends end, and Monday we go back to the same old same old.
But the thing about a spiritual journey is that the end, the destination, is not a place but a person, and that person is God the Father/Son/Spirit who created us for relationship. And that relationship never ends, not even at death, so the journey never ends.
The only way the journey ends is if you stop moving.
So where do we go from here? That's what I want to talk to you about today in the time we have before we gather around the Lord's Table and share Communion together.
Let's start by reading from John 15:9-17.
As the Father has loved me, so I have loved you; abide in my love. If you keep my commandments, you will abide in my love, just as I have kept my Father's commandments and abide in his love. I have said these things to you so that my joy may be in you, and that your joy may be complete. "This is my commandment, that you love one another as I have loved you. No one has greater love than this, to lay down one's life for one's friends. You are my friends if you do what I command you. I do not call you servants any longer, because the servant does not know what the master is doing; but I have called you friends, because I have made known to you everything that I have heard from my Father. You did not choose me but I chose you. And I appointed you to go and bear fruit, fruit that will last, so that the Father will give you whatever you ask him in my name. I am giving you these commands so that you may love one another.
In John 15, Jesus talks a lot about bearing fruit and being productive. In modern terms, we would call this success, but defined in a very different way than the world defines it. Success in God's eyes is summarized in one word: Love.
The world defines success by how much wealth you accumulate. In the kingdom of God, wealth is not something you accumulate for yourself but something you use to build up community.
The world defines success by fame, or how many people know you. In the kingdom of God what matters is not how many people know you, but how deeply you known and are known by others.
The world defines success by how much power you have to make your will a reality. In the kingdom of God, those with the power to come in first are the ones who come in last.
Those who abide in love are the ones who come in first.
In the world, the way to deal with an enemy is to conquer them, dominate them, even kill them.
In the kingdom of God, the way to deal with an enemy is to love them, to sit at the table God has prepared for you in the presence of your enemies and eat with them. You don't kill them, you pray for them.
And you don't have to fear for your life, because they can't kill you—you're already dead.
I have been crucified with Christ; and it is no longer I who live, but it is Christ who lives in me. (Galatian 2:19-20)
You're a walking dead man!
So God's love is both the end and the means to the end. It is the fruit and the thing that feeds the fruit. It is the destination and the journey itself.
So here's the first point I want you to remember today:
SUCCESS IS ONLY AS SUSTAINABLE AS ITS SOURCE
Our success shows that we can't do anything without Him, and that everything flows from Him.
I want you to notice how Jesus draws a distinction between success and the source. In the language of the vine, Jesus draws a distinction between results and roots.
If you want sustainable results, don't focus on the fruit, focus on the roots. Think about this for a second. The basis of really, really good organic fertilizer is what? Not the chemical stuff, but the natural stuff, what's the best fertilizer?
Manure. Yep. Cowplop, pasture pies, meadow muffins, night soil.
Mississippi Mud.
Now, what are you going to do with that stuff? Can you imagine the vinedresser who takes all that rich bovine #2 and proceeds to rub it all over the fruit? Just smearing it all over the fruit.
Are you going to eat that fruit salad? Can you imagine the wine that would come from that? "The flavor is bold and complex with notes of peat moss and a hint of barnyard."
No, you don't rub it on the fruit, you feed it to the roots. You compost it with dead leaves and plant material, stir it up every month or so, and in a few months you've got this rich, sweet-smelling compost that you can then mix into the soil or just use as mulch at the base of the plant, and the nutrients will seep into the soil and feed the roots.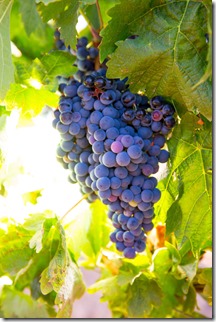 Feed the roots, you get lots of fruit. Feed the roots, and the roots grow. They go deeper and deeper into the soil, spread wider and wider, have more access to nutrients and water.
A plant with deep roots can survive a long period without rain, but without roots that are deep and wide, the fruit will dry up.
If you don't feed the roots, then the branches produce less fruit, and the fruit that is produced is small and not very good.
In your life, it's possible for you to produce results that can't be sustained by your root system. Our success cannot exceed the source that it came from. So if we base our success on the source of people's opinions or our own strength, then our success will be short-lived. It's possible to bear fruit without root, but the fruit will not last.
If we want our lives to have staying power, we need to determine our constant. A constant is a fixed value that
does not change, no matter what the other variables or circumstances in our lives are.
So there are three constants God establishes in believers that I want to mention.
CONSTANT CALLING
The first constant that God established in our lives is a Calling.
God calls us into relationship, but he also calls us into mission, and the two things go hand-in-hand. You don't get one without the other.
In the Old Testament, the Israelites experienced God calling them into relationship, but they missed the point that that relationship, that calling, was to be on mission to the rest of the world.
Likewise, God calls the church together, and he calls us both into relationship and into mission. He calls us to show his love to the world, and he has equipped each of us with certain gifts, talents, abilities, passions, and life experiences to be used in mission.
Around here we call that mission Light Unleashed, but that's just our take on it. Light Unleashed is a reminder that we don't exist for ourselves, we don't exist so we can enjoy and happy relationship with God and with other Christians who agree with us—we exist to to be agents of God's love. As Jesus put it:
"Let your light shine before others, so that they may see your good works and give glory to your Father in heaven." (Matthew 5:16)
Now, in different seasons of life, our calling manifests itself in different ways, but it is always the same calling. It's a constant.
Some people wait for the right circumstances to occur to pursue their calling, but you can't let circumstances dictate the extent of our calling. But we can have confidence that even though the circumstances may change, our calling is constant. And in our constant calling we have the constant faithfulness and victory of our unchanging God.
CONSTANT CHARACTER
The second constant is Character.
Circumstances change, but a person's character is deeply embedded in who we are.
Character is the sum of the stable and distinctive qualities built into an individual's life which determine his or her response regardless of circumstances.
Abraham Lincoln said, "Reputation is the shadow. Character is the tree."
Our character is much more than just what we try to display for others to see, it is who we are even when no one is watching. Good character is doing the right thing because it is right to do what is right.
Your character is what determines how you respond

to the situations and circumstances of life.
Most of us do well in good circumstances, but when things get difficult is when character reveals itself.
So let's understand one thing: pursuing our Constant Calling in a world that sees things very differently is going to lead to difficulty, and part of the spiritual journey is allowing God to develop the characteristics we need to be faithful in difficult circumstances.
Now, here in John 15, when Jesus talks about fruit, He's not necessarily talking about material things. He's talking about character. It's possible for us to achieve things that our character can't sustain.
If you don't submit to God's shaping of your character, then success would absolutely ruin you. It would distort you. It'd be terrible.
That's why sometimes God doesn't give us the thing we want because He's building in us the character we need to sustain it.
So here's the big question: What in your character needs to be developed or is God developing right now in order for you to bear fruit?
CONSTANT COUNSEL
The last constant we need is Counsel. God counsels us through His word and through His people. We need to constantly be reading and studying the Bible to understand what God's will for the world is, and this isn't something we can just do on our own. We need connections and relationships that will pour godly counsel into us. We need people who will insulate us from life's circumstances and remind us of God's truth.
Our Sunday School Bible studies and home groups are all about getting the right counsel from God through His people.
I had a woman email me yesterday who just moved to Frederick a couple of months ago. She wrote that Sunday morning services have never been her cup of tea, but wondered if we had any weeknight Bible studies. So I told her about Pastor Richard's Bible study on Tuesday night and my Bible study on Wednesday night.
Now, I wish and hope that she would come for worship, but I'll be satisfied if she'll be a part of a Bible study, whether Sunday morning or some weeknight. Most people who decide to only do one or the other choose Sunday morning worship, and I'm here to tell you that's the wrong choice.
If you want to grow spiritually and become most fruitful, you'll do both. But if you are only going to do one or the other, you'd be better served to study the Bible every week with a small group of other Christians who can speak godly counsel into your life.
There's only so much Bible you can learn from me in this setting, and very little counsel you can get from others.
So start going to a Bible study. But still come to worship.
CONCLUSION
Do you know the context of John 15? Jesus spoke these words just before leaving for the Garden of Gethsemane where he would be arrested and in short order executed.
Jesus knew the disciples would fall away, so He told them to remain in His love. He's telling the same thing to us today. We will all get it wrong many times, but Jesus is not counting on our consistency to determine His love for us. Our calling, our character, and our counsel are not the constant. The constant is Jesus' calling to save us and redeem us. It's His character and His counsel. The constant is not my love for God, but His love for me.
This is the secret to sustainable success: Not that we would maintain our love for God, but that we'd remain in His love for us. We will get it wrong sometimes, but all we need to do is remain connected to Jesus, the true vine.
Image by © Can Stock Photo Inc. / macfromlondon © Can Stock Photo Inc. / lunamarina