Posted by
Larry Eubanks
on Dec 13, 2016 in
Blog
|
0 comments

Larry L. Eubanks, First Baptist Church, Frederick, Maryland, December 4, 2016
Today is the second Sunday in Advent, and the second in my Advent message series, A Cinematic Christmas, where we are looking at the biblical themes of the birth of Christ through the lens of some popular Christmas movies. Today it's How the Grinch Stole Christmas.
Now when we laid out this message series we decided to call it A Cinematic Christmas, and so Emily naturally used the movie when she developed the graphics, but I was really thinking about the cartoon.
So before we continue, first we have to clarify:
Are we talking about the movie starring Jim Carrey—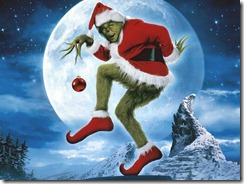 Or the televised cartoon?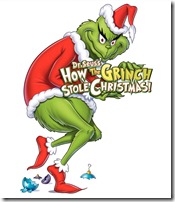 Apparently this is a thing. Apparently there are some who prefer the movie, and there are some who prefer the cartoon.
How many of you prefer the cartoon?
How many of you prefer the movie? Well, you're wrong.
C'mon! I mean, the movie is fine and everything, but it's based off of the cartoon which is an animated version of the book, and the books are always better than the movie. Why would you drink from a stagnant pond when you can sip the cool upstream waters?
It's Boris Karloff reading the book! And every line rhymes! If the movie could pull that off then maybe this is a real debate. But it's not, so it's the cartoon all the way.
Now, unless you've been living in a cabin in the middle of the Badlands you know the story of the Grinch. He lives high in the mountains above Whoville, and as Christmas is approaching he dreading it more and more. Not the dread of fear but the dread of anger.
He's getting more and more angry, and now it's Christmas Eve and he's really angry. Apparently Grinches have extraordinary hearing, because although he lives way up high in a mountain cave above Whoville, he can't stand the noise, noise, noise, noise, noise.
Because on Christmas morning all the Who's are going to get up and start making noise.
"They'll blow their flu-flubers, they'll bang their tar-tinkers,
They'll blow their hoo-hoovers, they'll bang their gar-dinkers!
They'll beat their trum-tookers, they'll slam their sloo-slunkers!
They'll beat their blum-blookers, they'll wham their hoo-whunkers!"
And worst of all, when it's all over and they've feasted on roast Beast, they'll do something he hates most of all,
Every Who down in Whoville, the tall and the small,
Will stand close together with Christmas bells ringing!
They'll stand hand-in-hand, and those Who's will start singing!"
Fah who For-aze
Dah who dor-aze
Welcome Christmas
Come this way!
Why does the Grinch hate all this so much? Is it because his shoes are too tight? Or because his head is screwed on too tight?
No, it's because his heart is two sizes too small.
He has a heart problem. Isn't that what it always boils down to, a heart problem?
In the Bible the heart is not so much the seat of emotion as we think of it, but the seat of the will. It's the organ that decides what you want to do. Whenever someone doesn't do what they should, or does what they shouldn't, it's a heart problem.
Proverbs 23:7 says that a person is as they think in their heart. Outward behavior can be deceiving, but the heart always reveals the person. In the short term you may do the right thing even though you don't want to, but over the long run if you aren't doing the right thing it's because you don't want to do it.
And if you consistently sin in the same, you may beat yourself up in your mind, thinking "Why am I doing this?" but the reality is you are doing it because you want to.
The battle is always in the heart. Pharaoh knew the right thing to do but wouldn't do it because he had a heart problem.
God doesn't hold you accountable for things you are physically incapable of doing, and he doesn't hold you accountable for being the way he made you.
Sin is when you know what is right and choose not to do it; when you know what is wrong and choose to do it anyway.
Jeremiah 31 says that there will come a day when God's law is not written on tablets of stone but on the hearts of Israel.
Write a law in stone and the heart can find a way to violate the law even while seemingly obey it.
Change the heart, and you do the right thing even when it isn't written in the law.
So the Grinch has a heart problem, and decides to steal Christmas. He'll sneak into their homes on Christmas Eve and he'll steal all their toys, all their gifts, all their stockings and Christmas trees and candy canes—anything and everything to do with Christmas.
He makes himself a Santa suit. Well, not a full suit, just the coat. No pants.
It's a pantless Santa suit.
How hairy do your legs need to be before you don't have to wear pants? That's one hairy dude right there.
He makes a Santa suit, and he's got a sleigh, but he has no reindeer. So what does he do? He puts antlers on his dog Max.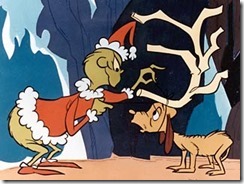 This is the saddest scene in the whole story. Look at poor Max. He's a faithful dog, and he's a happy dog, even though he lives with a Grinch. That's how dogs are, you know? They're just happy unless their humans do something to humiliate them, like put antlers on them.
That's the difference between a guy and a dog, right? Put antlers on a guy, and he thinks he looks cool, right? And he's the only person in the room who doesn't think he looks like an idiot.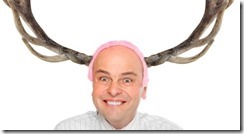 Look at this guy! He thinks he looks cool! He thinks he's hilarious!
But everybody knows, right?—he's an idiot.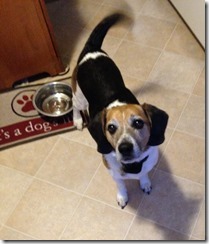 Just to prove it, I did an experiment. Here's my dog Kobi.
Look at him—his ears are up, his tail is a blur.
This is a happy dog.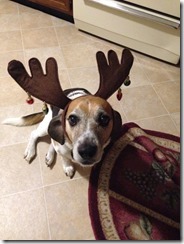 But put antlers on him—boom! Humiliated.
Look at that face. That is not a happy face.
That is the face of a dog saying, "Pull your own stupid sleigh, I am not going out looking like this!"
So the Grinch rides his sleigh down into Whoville, and he proceeds to steal everything that has anything to do with Christmas. He defies the laws of physics by tossing large bags up through a narrow chimney, and then the many large bags defy the laws of physics by becoming one gigantic bag on the back of his sleigh, and then a 25 pound dog defies the laws of physics by pulling that heavy sleigh all the way up a 90 degree mountain.
And here's what happens. Spoiler alert: this is the end of the cartoon, so if you have never seen it before—what is the matter with you?
So what did the Grinch learn? He learned that Christmas isn't about presents and Christmas carols and decorations and eating roast beast.
"Maybe, Christmas," he thought, "doesn't come from a store.
Maybe Christmas–perhaps–means a little bit more!"
Dr. Seuss doesn't go on to define what that little bit more is, letting the reader or viewer fill in the blanks for themselves, but it's clear what he's thinking. When all the Christmas-less Who's gather together, hold hands and sing:
Fah who For-aze
Dah who dor-aze
Welcome Christmas
Come this way!
It's clear. As long as they are together, as long as they are with the people they love, then Christmas has come.
Presence, not presents.
Matthew 1:18-25:
Now the birth of Jesus the Messiah took place in this way. When his mother Mary had been engaged to Joseph, but before they lived together, she was found to be with child from the Holy Spirit. Her husband Joseph, being a righteous man and unwilling to expose her to public disgrace, planned to dismiss her quietly. But just when he had resolved to do this, an angel of the Lord appeared to him in a dream and said, "Joseph, son of David, do not be afraid to take Mary as your wife, for the child conceived in her is from the Holy Spirit. She will bear a son, and you are to name him Jesus, for he will save his people from their sins." All this took place to fulfill what had been spoken by the Lord through the prophet: "Look, the virgin shall conceive and bear a son, and they shall name him Emmanuel," which means, "God is with us." When Joseph awoke from sleep, he did as the angel of the Lord commanded him; he took her as his wife, but had no marital relations with her until she had borne a son; and he named him Jesus.
A couple of months ago my Sunday School class started studying Matthew, so we were looking at the birth narrative back in September or October. And of course we talked about the virgin birth. I asked them what the significance of the virgin birth was, and pretty much to a person they said that it proved that Jesus was God.
And they were pretty much baffled when I said that I didn't need the virgin birth to prove Jesus was the son of God, that he was divine. And historically that's true. It wasn't the virgin birth that led people to conclude that Jesus was the only begotten son of God, it was the resurrection. Prior to the resurrection Jesus was pretty much a nobody, just a blip on the historical screen. Nobody cared about the circumstances of his birth, much less what they proved about him.
After the resurrection, everything changed. Now people believed that when they were in the presence of Jesus they were somehow in the very presence of God himself.
Besides, when Matthew refers his reader back to some Old Testament story, he's not trying to prove anything, he trying to explain something.
Here he is referring back to a time when the king of Judah was being pressured into going to war in alliance with two other kings, and God didn't want him to. God will protect you, Isaiah told the king, and this is a sign—a young woman will give birth to a child, and God is going to name him Immanuel—God with us.
That is the significance of the virgin birth to Matthew—that the people of Israel, who because of their sin had existed for the better part of 400 years outside of the presence of God, no longer had to live that way.
God had returned. In the presence of this little baby, God was present with them too. Forgiveness had arrived, salvation had arrived, life had arrived.
We focus on the miraculous aspect of the virgin birth too much. That's the fun part. That's the blum-blookers and sloo-slunkers part. And like the Grinch we can get caught up in thinking that all the miraculous parts of the Christmas story is what the birth of Jesus is all about, but it's not.
It's that God is with us, which is all the miracle anyone ought to need.
God is with us, despite our sin.
God is with us, despite our hard-heartedness.
God is with us, no matter how small and insignificant we may feel.
God is with us.
Which is an interesting thing to say if you believe that God is omnipresent, that he is all the time everywhere, and there is no place where God is not.
Which is interesting again when we say that hell, no matter what else you believe about it—whether it's a lake of fire or burning garbage pit or whatever—that at its essence hell is the absence of God.
Didn't we just define God as always everywhere, that there is no place where God is not?
That's true, if hell is a place you go.
Maybe, however, hell is more a condition of the heart, because the heart is one place that God will not go uninvited.
He will not force you into obedience, you have to want it.
He will not force you into a relationship, no matter how much he wants it.
Relationships can't be forced. Love cannot be coerced.
It must be given.
It must be received.
God is always everywhere, but you have to invite him into your heart.
In Whoville they say that the Grinch's small heart grew three sizes that day!
Well of course it did. And yours will too, because our God is a big God.